Diagnostic Research Based on DCL™
Background & Overview
Deuterium-labeled molecules are becoming an important part of various biochemical and biomedical research as well as studying certain aspects of their metabolism. Stable isotopes that do not present a radiation hazard are preferred over radioactive analogs in clinical diagnosis, for example, deuterated phenylalanine analogs can be used to detect hereditary phenylketonuria (PKU), a metabolic A genetic disorder characterized by mutations in the gene for the liver enzyme phenylalanine hydrolase (PAH), rendering it nonfunctional and associated with disturbances in phenylalanine metabolism in an organism.
BOC Sciences' deuterated technology is used in academic centers or commercial research organizations. In specific cases, researchers, clinical pharmacologists and physicians use our technology as a tool in clinical trials, medical diagnostics or clinical pharmacology. We support the development of more powerful diagnostics.
Our Capabilities
We are able to prepare a wide range of deuterated compounds including deuterated carbohydrates, deuterated amino acids without heterocycles or benzene rings, deuterated vitamins, deuterated fatty acids, deuterated heterocycles, deuterated acetic acids or acetate salts, deuterated lactic acid or lactate, deuterated citric acid or citrate, deuterated hydroxybutyric acid or hydroxybutyrate, etc., and use any one or more compositions of these compounds as nuclear magnetic diagnostic reagents. Based on the different levels of metabolism at the lesion site, we then use nuclear magnetic resonance to detect changes in deuterium in the body, thereby diagnosing the condition of the test site.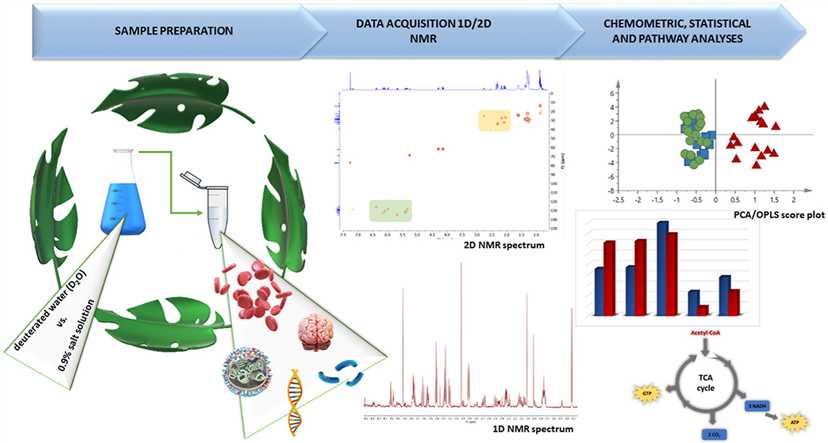 Fig.1 NMR spectroscopy as a "green analytical method" in metabolomics and proteomics studies.[1]
Application Fields
Medical field
We support the diagnosis and identification of various diseases, disease judgment, treatment effect evaluation, organ function research and new drug development, such as PET diagnosis, tumor treatment, drug research, etc.
Analytical testing field
Our stable isotope technology plays a unique role in the detection of food, pesticide residues, and illegal drugs.
Why Choose Us?
For many years, BOC Sciences has focused on the manufacture of deuterium-labeled compounds that provide innovative, targeted solutions to laboratories, medical, government and academic research centers, and health institutions around the world.
The company has formally established a deuterated pharmaceutical raw material research and development platform, providing customers in related fields with deuterium-labeled drugs, new NMR solvents, and external services for raw material intermediates and impurity synthesis. Our products and services cover areas such as cancer research, new drug development, environmental analysis, genomics and proteomics, and medical diagnostic research.
If you are interested in our services, please contact us immediately, then fill in the complete inquiry form, and we will reply to you as soon as possible.
Reference
Mielko K A, et al. NMR spectroscopy as a "green analytical method" in metabolomics and proteomics studies. Sustainable Chemistry and Pharmacy. 2021, 22: 100474.